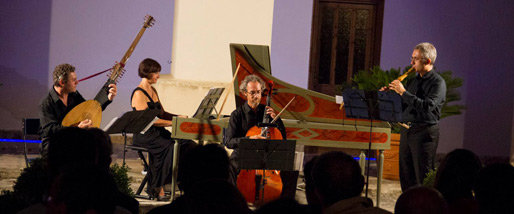 02/05/2010
Ensemble Barocco di Napoli
The Ensemble Barocco di Napoli was founded on the iniative of Tommaso Rossi, Raffaele Di Donna and Marco Vitali and debuted to great acclaim on 2 May 2010 on the occasion of a concert organised by Associazione "Alessandro Scarlatti" to celebrate the 350th anniversary of birth of Alessandro Scarlatti.
The group is made up of musicians who have been active for years in the most important Italian Early music entitles. In 2012 the group published its first CD dedicated to the flute Cantatas and Sonatas by Alessandro Scarlatti for Stradivarius label with soprano Valentina Varriale. In 2014 the same label published a second CD, dedicated to Leonardo Leo's flute Sonatas.

The Ensemble was invited by important festivals like Savona Opera Giocosa , Cusiano Early Music Festival, Leonardo Leo Baroque Festival. In January the Ensemble played with soprano Maria Grazia Schiavo in the music season of Associazione "Alessandro Scarlatti". The Ensemble organizes in Pertosa the Early Music Course "Musiche da ricordare" in collaboration with Fondazione MIdA.